PUMA future-proofs its freight procurement with SHIPSTA's autonomous technology
As in sports, agility and speed are key to win. Under its "FOREVER.FASTER." mission, PUMA relied on SHIPSTA to procure autonomously and cost-effectively.
Explore how PUMA is leveraging SHIPSTA to empower their Global Logistics Procurement team to deal with market complexity and improve freight cost-competitiveness while optimizing time.
Simply fill in the form to access the customer success story.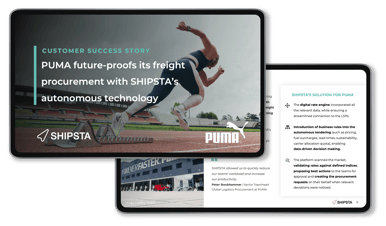 Frequently Asked Questions
Why do I need to provide the info requested?
We ask for your information in exchange for a valuable resource in order to improve your browsing experience by tailoring our website to your needs and send you emails that we think may be of interest to you based on your email preferences.
Will my data be kept safe?
Of course! We will never share your data with a third-party organisation, and we'll only ever send you content that you've subscribed to. You can unsubscribe from our mailing lists at any time.
You can read our full privacy policy here.
About SHIPSTA
SHIPSTA is a digital logistics procurement platform that connects shippers and carriers, making spot and freight procurement quick and simple.
Book a demo with one of our logistics experts to learn how SHIPSTA can help your business.